eStatements
Receiving your monthly statements online is the safest and fastest way to view your account information. At TSB, we take protecting your financial information very seriously, and for that reason, we provide the highest level of security for our online banking products. We believe that receiving your monthly statement online is actually safer than the mail by avoiding the risk of your paper statement landing in the wrong hands.
Features:
Store and review your eStatements in a secure online environment
Up to 7 years of access
Receive email notifications when your new statement is available
Added protection against identity theft
To sign up for eStatements, simply log in to Online Banking and click on Profile. If you are not an Online Banking user, register today.
Watch our eStatement video below and see how easy it is to sign up.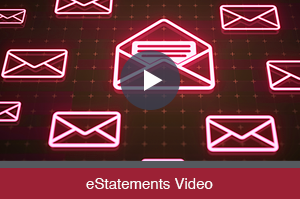 Read our eStatement Disclosure