CardValet
CardValet is the mobile app that lets you control debit card usage and spending on the go!
The TSB MasterMoney™ Card offers both convenience and risk. You can make purchases easily, but if your card falls into the wrong hands, your personal accounts are vulnerable. Safeguard your information with CardValet, the mobile app that lets you deactivate your debit and credit cards when you don't need to use them. Protect your cards against fraud and theft by turning them on and off, and get real-time alerts to ensure your cards are used only by you.
Features:
Turn your card "on" and "off"
Set alerts for certain transaction types
Restrict transactions based on merchant type
Establish transaction amount limits
And so much more
Benefits:
When your card is "off," no withdrawals or purchases will be approved
Real-time alerts keep you informed when your card is used or declined
Transaction controls allow your card to work only in specific locations or geographic areas
Set spending limits for general use or specify thresholds by merchant types, such as gas, groceries or retail stores
Establish controls by location and change parameters via your mobile device
Watch the CardValet video below and see how easy it is to use.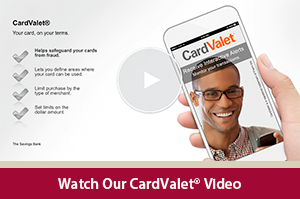 CardValet is a registered trademark of Fiserv Inc. or its affiliates.
Download the App*
*Message and data rates may apply.