We understand that the unexpected can happen or that math mistakes can occur, and at times you may not have enough money in your checking account to cover a transaction, causing an overdraft to occur. At The Savings Bank, we offer a choice of options designed to protect your account.
Keep in mind, you may choose multiple Overdraft Protection options for additional protection.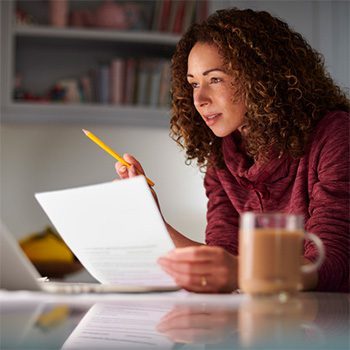 How to Protect Your Account From Overdrafts
The first step in avoiding overdrafts is staying on top of your account balances:
Watch your account balances regularly to make sure you don't go too low. Balances can be checked in Online Banking, via our Mobile App, by phone, or by visiting an ATM or branch.
Set up low balance alerts. With our Notifi service, you can set up email or mobile text real-time alerts to get notified when an account goes below a certain threshold that you set.
If you do overdraw your account, our overdraft protection options help you cover the overdrawn amount, so you can avoid late fees, bounced checks, embarrassment at the register, and avoid an insufficient funds fee.
An automatic sweep to prevent potential overdrafts at no cost to you! You can link up to two eligible accounts to your primary checking account so funds will be transferred automatically at the end of business day processing if you've overdrawn your account during the day. Available on retail checking accounts. Click here to learn more about Transfer Protection.
The Savings Bank will temporarily cover insufficient funds on checks, electronic and debit transactions, and ATM withdrawals. Enrollment is automatic for check drafts and ACH (electronic) transactions. You must opt in to receive this overdraft benefit for ATM withdrawals and one-time debit purchases.Click here to learn more about Bounce Protection.
Money Reserve Line of Credit
This revolving line of credit is linked to your checking account and requires an application. If you overdraw your enrolled checking account, your Money Reserve Line of Credit will activate to cover your purchase, bringing your enrolled checking account's balance down to zero and your Money Reserve Line of Credit's balance up to the amount needed to cover the purchase.
From our customers
"I love it here!! Best service all around."
From our customers
"I basically never have to go to the bank to deposit a check. it can be done from my phone saving me time, trips and gas which means I can focus on other important tasks."
From our customers
"Love Lakeside. Mario and staff always greet me by my first name."
From our customers
"Love the tellers at the Lynnfield Center location. Very professional and caring."
From our customers
"Banking with The Savings Bank was with me for several years & it will always be my bank forever!!"
From our customers
"The employees are knowledgeable, reliable, industrious as well as kind and personable."
From our customers
"Such a great support center when you need help, and the technology has kept up. I use Zelle which solved a banking problem I had had for years. The team in Greenwood is absolutely excellent! Thank you all."
From our customers
"I mostly use the Methuen branch. All of the tellers have been wonderful and the branch manager is fabulous."
From our customers
"I found your online banking system very user-friendly. I also would like to mention that the staff in the Wakefield branch are professional and very helpful."
From our customers
"The whole banking center experience is excellent. The website is superior to most for my wants/needs to obtain and store on MY own computer our home banking records."
From our customers
"Their community involvement has made a huge difference in Wakefield over the years."
From our customers
"Bank personnel are always so willing to help. They always greet us with a smile. In this world today, it makes us feel good!"
From our customers
"I am older and appreciate the ease of banking online. I always get good service at the branches I visit."
From our customers
"Competent, knowledgeable, customer-focused, and very warm and friendly employees."
From our customers
"Always helpful whether in the branch or online!"
From our customers
"Great people. Great service. Convenient."
From our customers
"I spoke to Theresa today and she was incredibly helpful! That is why I bank with you! The personal touch is what makes the difference!"