Finding the best bank for your small business doesn't have to be complicated. Start with the essentials –  a good business checking account – and build from there, taking into consideration what you need now and what you might need in the future.
The tools you need to manage your business finances – anytime, anywhere.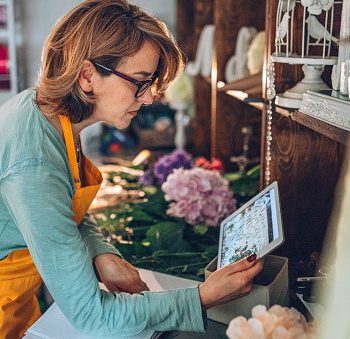 Easy, convenient, 24/7 secure access to your accounts
No monthly fee
Unique Access ID for each employee
Transfer funds in real-time between TSB accounts
Images of checks and deposit tickets
Account alerts via email or text
Bill payments
Initiate stop payments
Set up custom reports
Multiple download formats, including QuickBooks®
Bill Payment will allow you to make your vendor payments online right from your device. Payments can be scheduled as recurring or on demand. Invoice information can be included with your payment.
Saves time and money versus writing and mailing checks
Easy to use calendar to show you the earliest date a payment can be received by your vendor
Allows you to schedule future payments
Most major vendors will receive their payments electronically within two business days
Bank securely anytime, anywhere – with your mobile device. Download the TSB Business Banking app and sign in with your TSB Business Online Banking credentials.
Manage your accounts
Check account balances
View recent transactions, including check images
Transfer money between accounts
Deposit checks by snapping a picture of each check
View deposit history in the app
Notifi real-time custom alerts sends push notifications to your phone and/or email account to keep you aware of what's happening with your account. You set them up as you want.
Low account balance
Deposits cleared
Withdrawals over threshold
Password change
Monitor account balances and activity
Control security alerts
View notifications through Online and Mobile Banking


From our customers
"Always helpful whether in the branch or online!"
From our customers
"Such a great support center when you need help, and the technology has kept up. I use Zelle which solved a banking problem I had had for years. The team in Greenwood is absolutely excellent! Thank you all."
From our customers
"I spoke to Theresa today and she was incredibly helpful! That is why I bank with you! The personal touch is what makes the difference!"
From our customers
"I found your online banking system very user-friendly. I also would like to mention that the staff in the Wakefield branch are professional and very helpful."
From our customers
"I mostly use the Methuen branch. All of the tellers have been wonderful and the branch manager is fabulous."
From our customers
"Bank personnel are always so willing to help. They always greet us with a smile. In this world today, it makes us feel good!"
From our customers
"The whole banking center experience is excellent. The website is superior to most for my wants/needs to obtain and store on MY own computer our home banking records."
From our customers
"I love it here!! Best service all around."
From our customers
"Love the tellers at the Lynnfield Center location. Very professional and caring."
From our customers
"I am older and appreciate the ease of banking online. I always get good service at the branches I visit."
From our customers
"Banking with The Savings Bank was with me for several years & it will always be my bank forever!!"
From our customers
"Love Lakeside. Mario and staff always greet me by my first name."
From our customers
"Great people. Great service. Convenient."
From our customers
"Competent, knowledgeable, customer-focused, and very warm and friendly employees."
From our customers
"The employees are knowledgeable, reliable, industrious as well as kind and personable."
From our customers
"Their community involvement has made a huge difference in Wakefield over the years."
From our customers
"I basically never have to go to the bank to deposit a check. it can be done from my phone saving me time, trips and gas which means I can focus on other important tasks."
App Store and the Apple logo are registered trademarks of Apple Inc.
Google Play and the Google Play logo are trademarks of Google LLC.