The Donald E. Garrant Foundation, Inc. was founded in 2001 in memory of Don Garrant, former President and Chief Executive Officer of The Savings Bank. Mr. Garrant served as President of The Savings Bank from 1980 to 1992.
The Garrant Foundation has issued awards totaling nearly $120,000.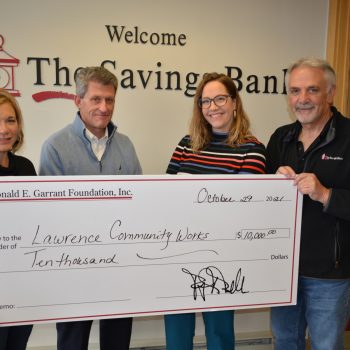 To recognize Mr. Garrant's passion for financial literacy, the Foundation seeks to support projects in the Public & Private Schools, Grades K-12, and Not-for-Profit Organizations, that focus on financial education – banking, money, saving, investing, borrowing and credit, and economics.
The Foundation has issued awards for purchases including:
Financial books for a High School Library
Financial books for a Middle School Library
Books relating to saving, borrowing, receiving an allowance and other subjects for the six Wakefield Elementary School Libraries
Age-appropriate economics curriculum for use by the faculty at the six Elementary Schools
Books and games relating to banking and math for the Wakefield Special Education Department at the High School
Banking-related coloring books and piggy-banks for grades K-2
A three-volume set of books related to stocks, bonds, and mutual funds for five students participating in the "Stock Market Challenge."
Accounting software and related textbooks for Lawrence High School Partners-in-Education
Contact Information
Donald E. Garrant Foundation, Inc.
357 Main Street | PO Box 30
Wakefield, MA 01880
(781) 224-5428
E-mail: GarrantFoundation@tsbawake24.com (please note: Email is not secure)
From our customers
"Banking with The Savings Bank was with me for several years & it will always be my bank forever!!"
From our customers
"Love Lakeside. Mario and staff always greet me by my first name."
From our customers
"I am older and appreciate the ease of banking online. I always get good service at the branches I visit."
From our customers
"Always helpful whether in the branch or online!"
From our customers
"I spoke to Theresa today and she was incredibly helpful! That is why I bank with you! The personal touch is what makes the difference!"
From our customers
"Their community involvement has made a huge difference in Wakefield over the years."
From our customers
"I mostly use the Methuen branch. All of the tellers have been wonderful and the branch manager is fabulous."
From our customers
"Such a great support center when you need help, and the technology has kept up. I use Zelle which solved a banking problem I had had for years. The team in Greenwood is absolutely excellent! Thank you all."
From our customers
"Love the tellers at the Lynnfield Center location. Very professional and caring."
From our customers
"The whole banking center experience is excellent. The website is superior to most for my wants/needs to obtain and store on MY own computer our home banking records."
From our customers
"Competent, knowledgeable, customer-focused, and very warm and friendly employees."
From our customers
"Great people. Great service. Convenient."
From our customers
"I basically never have to go to the bank to deposit a check. it can be done from my phone saving me time, trips and gas which means I can focus on other important tasks."
From our customers
"The employees are knowledgeable, reliable, industrious as well as kind and personable."
From our customers
"I found your online banking system very user-friendly. I also would like to mention that the staff in the Wakefield branch are professional and very helpful."
From our customers
"Bank personnel are always so willing to help. They always greet us with a smile. In this world today, it makes us feel good!"
From our customers
"I love it here!! Best service all around."